About Creon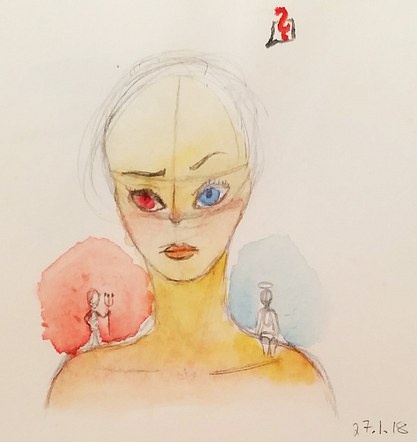 Hi, nice to see you!
You like art? Well, you came to the right place!
My name is Creon, I'm a 24-year-old artist from Germany. Currently, I'm studying a wide array of artistic subjects, like illustration, candle-making, lettering and 3D moddeling.
Why?
Well, mostly to reach out and learn about all kinds of cultures and techniques to forge my own art syle.


In my gallery you can view some of my work.
If you have a question or some tips about my work or even want to commission an art piece, please don't hesitate to contact me!
Terms of Service for Commissions:
At first, you tell me what you want as detailed as possible. If you can provide any reference pictures, that's a great addition! After everything is clear and I fully understood what you want, I will go with you over pricing, telling you exactly what I charge for (for example any extra charge for intricate design or action poses) and how much it will cost you all together. You can find my pricing list in my Commissions Page.
After we agreed on the price, I will send you an invoice via PayPal.
As soon as I recieve your money, I will start sketching. I will show you the sketches and take revisions during sketching phase, so that we can work out exactly the sketch that you want. Please be as detailed as possible with your revision wishes, since I will do a maximum of 2 turns of revisions for the piece and we both get the preferred result way easier and quicker if you provide me with more detail.
After we agreed on the sketches, I will start line work and coloring, sending you work in progress pictures as we agreed on. Please note, that I will NOT do any bigger revisions after the sketching phase. I will, however, do smaller revisions, like changing up a color.
When I am finished, I send you the final result as a .png. Other file formats can be requested.
If you have special requirements for the size of the artwork (e.g. when you want a profile picture), please tell me in advance.
I take a minimum of 2 weeks to complete a commission. I will tell you an estimate of how long it will take when we talk about the details of the commission, so if I need more time for it you will know in advance. If you need the piece in less than the time estimate I tell you, I will charge extra, depending on how fast you need the piece to be done.

If you, however, are not happy with the sketches I am providing you and you want to cancel the commission, I can refund you 50% of your payment, but only if you cancel the commission during sketching phase. The other 50% are a non-refundable creation fee I keep for the time and effort I spent on the sketches. As soon as I move on to line work and coloring, there can be no refunds.